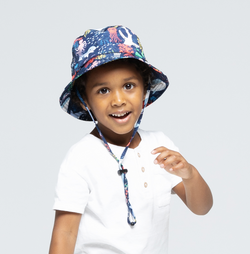 Buba & La
Marine Life Kids Waterproof Bucket Hat
Our Marine Life unisex bucket hats are the ultimate sun safe accessory for your little one. They are UP50+, chlorine resistant and made for Kindy/The Beach and more. 
- Adjustable Head Rim strap that adjusts to all head sizes
- Comfy drawstring to adjust to the chin
- Chlorine resistant and UP50+ sun protection
- Made from 6 recycled plastic bottles
Made with 6 recycled bottles and finished with a peachy feel. Super comfy for your little one .Suitable for ages 3-6 (54cm).